Video Poker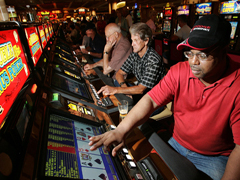 Video poker is a kind of computerized casino game based on the highly popular traditional poker game all people know. Poker is a card game that deals with five cards per player. Each player tries to come up with the highest combination of cards possible based on certain criteria to win a session. Video poker is very similar to this except that it is played in a computer instead of on an actual casino table.

The idea of starting video poker came with the insurgence of computers and the internet. Playing poker became viable with a monitor and central processing unit setup at homes. Video poker machines started in the 1970 albeit the first models that came out were rudimentary when compared to today's more modern versions.

In 1979, SIRCOMA (Si Redd's Coin Machines) brought video poker machines to a higher level when it introduced Draw Poker. Soon after, a lot of people were drawn to this video game because it enabled them to play poker without having to face intimidating real players in an actual casino table. With a real poker game, a player has to contend with bluffing and deceptions of other players that could be intimidating to new players.

These video games used to be confined in homes for personal use only. But today, the biggest casino houses have placed many video poker machines in their gaming floors to the delight of many leisure gamblers. The rows of lighted video poker machines are attractive and easy to use. These computer games are very commonly seen in Las Vegas casino spots and other major casino houses around the world.

Video pokers often offer lower denominations but better odds of winning. It is recommended to play here while still memorizing card combinations and learning strategies to improve one's game. Many players today start with video poker to hone their skills and get their groove in the game before facing off with other players in conventional poker.

Most machines require a player to insert a coin for the game to start. In some casinos, players could buy a bar-coded ticket with credit and swipe this ticket to the machine. Once the game starts, a player will be dealt with cards. He can exchange his cards for another on the virtual deck depending on his strategy. When a player is settled on his draw, the hands are revealed to see who among all the players has the highest winning combination. Payouts will depend on the casino. Usually, a player could redeem winning points from a payout booth. The less likely that a certain combination of cards will turn out, the higher the rank.

Some machines feature progressive jackpots. More frequent plays would mean bigger prizes for players. This attracts people to play more regularly and more often. The jackpot prize is added for the next day until someone gets to win it.

Video poker, although played virtually, is still governed by regulatory boards. In the United States, it is primarily regulated by states or by Indian gaming agencies. Basically, the agencies just see to it that there is fair play in every game produced by the machine. The cards must be dealt in random sequence. And even before these machines can be used in public casinos, they will first go through close inspection by authorized agencies to make sure that the developers and manufacturers complied with certain gambling rules.

There are different kinds of video poker, each with slight modifications, but basically all adapting a common set of rules for poker games in general. Variations may be in the bonuses offered and the number of cards drawn in a deck. Some games may have a wild card. In the absence of a wild card, a combination of 4 cards of the same suit may only occur once out of 500 times.

One type of video poker is the Jacks or Better, more commonly known as Draw Poker. In this particular game, payoffs begin with a pair of jacks. Some call this game 9/6 Jacks or Better because the house pays off 9 credits for a full house and 6 credits for a flush.

The All American video poker is based on Jacks or Better except that here, there is a bigger payout for flushes, straights, and straight flushes. Full houses and two pairs are awarded with smaller payouts.

Tens or Better is another variation of Jacks or Better. Here, a pair of tens is awarded with a payout rather than starting with a pair of jacks. Players employ the same strategies here as with other types of video poker.

Deuces Wild is another favorite variation of poker. Here, all pairs are wild. Wild cards are like dummy cards that could be anything a player wishes it to be. This increases the chances of getting a winning combination and therefore also increases the chances of winning.

Another type is the Bonus Poker, again very similar to Jacks or Better. But in this case, the Bonus Poker offers a higher amount of payouts for a four-of-a-kind combination. It has many different versions of payouts depending on how a four-of-a-kind is ranked.

In Double Bonus, there is extra payout for a hand with four aces. The Double Double Bonus offers extra payout for different four-of-a-kinds as seen on a casino's chart guide. A player may increase his chances of winning in this game if he employs a good strategy.

Poker is a game of probabilities but winning does not rely solely on chance. Playing poker is also a skill be it in actual casinos or just on a video machine. It requires strategizing and learning the ropes of the game to increase one's chances of winning. A lot of people first resort to video poker to hone their skills before facing actual players in a real casino table. Apart from understanding the math of probabilities, one also needs to master bluffing and giving that poker face even amidst the possession of a winning combination.