How to Play Slots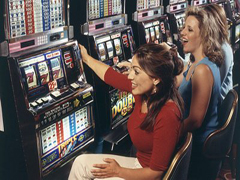 Almost everyone knows how to play slots. It is a very popular casino game after all. Even children have their own toy slot machines that their parents buy for them. Just pull down a lever and a couple of reels will start spinning. After a few seconds, the reels will come to a complete stop and a combination of patterns will form. If it matches any of the winning combinations indicated, then you win. That is just the overview. However, anyone trying to learn a game should first start with the basics, which include getting familiar with the usual terms being used when playing. In slots, there are some terms worth knowing that will further enlighten you on how the game is played.

RNG is short for random number generator. It is a computer chip found inside the machine and is responsible for the random turnout of winning combinations possible in every pull of the lever. The RNG is preprogrammed so that the jackpot combination occurs the most seldom as this is the most coveted. It also ensures that no player will be able to devise a pattern of machine payout because everything will be randomly selected. Thus, the slots is called the game of luck.

The reels are the major part of slots. The number of reels also tells the number of patterns in any given combination. Thus, if there are three reels, there are three patterns in one combination. The number of reels also signifies the difficulty of getting the jackpot combo. A machine with three reels is the easiest because it has the lowest permutation of combinations possible.

The slot schedule is where players refer to for important information regarding slots. Posted information here includes the type of slot machine, the denominations accepted, and the payout for each coin inserted or played.

Loose slots have a higher payout percentage. You will find a symbol or icon on the machine, like 2 or 3 cherries for example to pay with a few pieces of coins. The cherries will be replaced with a non-paying symbol and just like that you have a loose machine. For the tight slot, the procedure is reversed. Thus, loose slots with more paying symbols have higher payouts.

Most casino houses buy slot machines from manufacturers. But for some big time casinos with a big budget, they manufacture their own machine that could not be found in other casinos. A slots produced by the casino itself is called signature slots.

There are two main types of slots namely straight and progressive. In straight slots, the payout amount is the same for every round. It is unaffected by the number of coins being dropped on the machine. In progressive slots, the jackpot prize increases as more and more players insert coins to play. Most progressive slots will require players to drop three coins to be eligible to win the maximum prize. If the winning combination occurs and a player dropped only one coin, he will not be able to max out his winnings. When the maximum prize has been won, the pot prize will be reset to minimum.

Playing slots is very easy. It does not any kind of practice before you play an actual game. What is more important is to know the different kinds of slot machines because operating it is very easy and needs little telling. The various kinds of machines will affect the payout and that should concern you more.

The rules are what you should pay more attention to. Read the instructions carefully. It should be posted anywhere near the machines itself. If not, be sure to ask a casino attendant for any of your concerns regarding slots. Progressive slot machines for example can be tricky. Read the minimum required number of coins to be eligible to play for the progressive jackpot. If it requires two coins minimum and you inserted only 1, you will not be eligible to win the jackpot prize even if you get the winning combination.

A machine requiring three coins to win the progressive jackpot looks very lucrative offhand. But on the other side of it, it is also more expensive. Imagine having to insert three coins per round in hopes of hitting the jackpot. You will spend more considerably as compare to others who are investing only one coin at a time and therefore will enjoy more rounds of slots games than you.

This is not to sound discouraging towards a three-coin machine. It is only to give you options about the kinds of machines you can play in slots. In the end, if you want to gamble, it is your money and you decide what to do with it.

To give you more options, there is also a slots machine that gives double payouts for jackpots on a pay-line. This works simply. There is a specific symbol to signify that a machine is currently paying double. If this appears and you made a winning combination of patterns, your payout will be doubled.

However, you should also note that not all machines pay double or quadruple. The usual sign for double payouts is the image of a cherry fruit on two reels, one on each end. If you are specifically looking for a double machine, do not confuse it with wild cherries or other symbols that is only meant to be "wild." A "wild" symbol is only another paying symbol but not necessarily a double payout.

Online casinos are also fast becoming popular. It offers an alternative venue to gamble at the comforts of your home. If you know how to play slots in an actual casino, then you will have no problem trying it online. Most online slots games are offered for free. This means you do not need to "insert" any coin or deposit any amount of money before being able to play. There is also a random number generator in the game software to make sure that winning combinations come out at random. Legitimate and reputable online casinos will actually give a payout for your winnings.