Slots Odds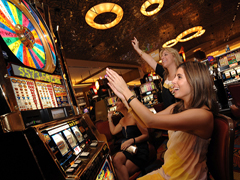 It is quite a difficult task to determine precisely the odds for slot machine games. There are so many varieties of slot machines nowadays and the odds per kind of machine greatly vary. But first of all, how are the odds in slots really expressed? It is basically calculated in the form of payback percentage. Thus, it is better if the payback percentage is nearer 100% because it means that it is almost certain that you will profit from your bet. If you are lucky, you might even encounter a machine that offers more than 100% of payout. This would mean more than doubling what you have wagered if you win.

Loose slots are those capable of giving higher payouts. They are scattered all over the gaming floors of casinos. The strategic placements give these loose slots more visibility to oncoming players and thereby drawing a larger crowd. Although such machines are producing more winners than some, it is also generating more income because it is getting the most number of players all the time.

It took only a while before the slots fanatics figured out this kind of strategic placements so that the casino managers had to devise another strategy. They had to shuffle or rearrange their machines to avoid predictability from their avid clients. Thus, sometimes they would place low-paying machines in areas getting higher foot traffic, and then reversing it after a few days. Today, it is still customary for casinos to vary payout percentages per machine. It will offer a mix of high, average and low payouts. In spite of this, there are still a few set rules for slots odds regardless of the type of machine.

Average Payout in Land Casinos
Land casinos are the actual gambling houses where players converge to enjoy some game sessions of cards, video poker or slot machines. If you browse through the several slots available, you will notice that the machines will indicate credit betting denominations accepted. For example, it may accept denominations of .01, .05, .25, 1, 5, and 100. The next question to ask is which among these denominations will offer the most profit for your wager. Obviously, the higher the denomination, the higher return rate. After all, casinos will generate more revenue from higher denomination of bets.

If this will be charted, you will see that a bet of .05 inserted on the machine will give an average payout of 92.5%. a denomination of .25 will give a 94.1% average payout. $1 will have 95.9% while $5 will have 98.4%. The logic behind this is that a nickel and dime will more likely go in and out of a slot in a given day as compared to a dollar. More money is being fed on a machine accepting higher denominations therefore it is only right that it gives a higher payout for that.

If your bankroll could afford it, it is better to play on a five-credit coin machine with a 98.4% return rate rather than play on a quarter slots. If you play in the hundred credit slots, the return on your wager is almost guaranteed at nearly 100%. Anything is possible as your pull down that lever for a single time.

Here is a further illustration of the odds in slot machines based on a three-coin maximum betting. If you will play for an hour with an average of ten spins per minute on the reels, you will need 6.75 credits to play on .05 denomination slots. For .25 denomination slots, you will need 26.75 credits. For a dollar slots machine, you will approximately need 74 credits. And for the five credit slots, you will need 145 credits.

Bear in mind that slot machines are mainly a game of luck so that no matter how hard you study the odds of this game, there is no guarantee of winning after pulling down that lever bar (or pushing the button as the case may be). The above illustrations are just estimates to guide you as a player. If you are an aggressive player, you can follow the guidelines mentioned previously. However, if you want to be more conservative then you can try to double the amounts listed above to get better chances of prolonging your games and enjoying more rounds of slots.

Average Payout in Online Casinos
Online casinos are those found in the internet. Just login to an online casino site and you will be guided accordingly on how to start playing. You may be required to pre-register, download a game program and make a deposit before you can start playing online slots. Just like in land casinos, online casinos are also capable of giving big jackpot prizes. The odds in actual slot machines can be at par with virtual slot machines. In fact, it could be even higher.

The top five online casinos ranked according to giving the highest payouts are Golden Riviera, Golden Lounge, Expekt, Piggs and Wild Jack. The highest payout percentage can be as much as 98.01% while the lowest is 97.34% (Wild Jack). The rankings and figures of return rates are based upon the research of a trusted international accounting firm. The online slot machines went through rigorous testing to ensure that although online casinos are only dealing with players via the internet, they are still being treated fairly.

Another important thing to know that also affects the odds of winning is the number of reels in a machine. A typical slot machine has only three reels so the winning combination for this will only be composed of 3 designs or patterns. This is the easiest type of machine to play with because it has the lowest permutation of combinations. As more reels are added, it gets more difficult. Still, it is not easy to win because once the reels start to spin, players can only sit back and anticipate the turnout. The random number generator programmed in these machines ensures that the casino will still have the edge. It will control how often the jackpot combination will come out.