Blackjack Tips and Tricks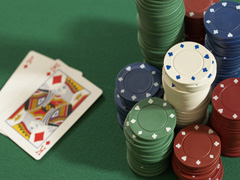 Blackjack looks like an easy card game to play. A newbie might be forced to think that this casino game relies mostly on chances and lady luck only to win it. Once he sits to join a table, he simply lets luck decide his winning chances for the night. However, the more expert players do not rely on luck alone. They know a lot better to study the rules of the game more closely, analyze the odds of blackjack and strategize better during the game.

It is very important first of all to learn and master the basics before one can move on to learn a few tips and tricks to improve oneís game. A player can formulate his own tips and tricks of the game based on his experience. At the same time, he could also refer to some previously written materials that were formulated by those who have had many years of expert experience in playing blackjack under their belts.

If you are looking to improve your game, you should know this early that to win you also have to play it smart. Learn how to turn the odds in your favor to increase your chances of winning even if there is really no 100% guarantee of taking the pot. For starters, here are ten tips and tricks.

Todayís generation of players is lucky because they can practice at a lesser cost. Before, blackjack enthusiasts had to master the game the hard way by joining actual casino tables and losing a lot on their wagers. Today with the advent of the internet technology, one only has to go online and search for a blackjack game site. There are practice modes in these websites to assist in his familiarization. One can play to his heartís content until he gets to master all the odds and memorize the right kind of move given specific hands. No need to wager real money to learn the tricks.

Second tip is very practical. Learn to manage your bankroll to determine how long you can last in a blackjack table. It is like budgeting your capital and potential winnings. If you do not take concern about your bankroll, it is possible to lose everything you got in just one bad streak and that will be very painful. The key idea is to minimize losses and maximize winnings.

While talking about bankrolls, keep in mind that you will not win all the time. You may find yourself winning in several consecutive rounds but blackjack is still a game of chance after all. The possibility of losing is still there and if that happens do not be caught making bad decisions so that you lose all your winnings in a snap.

Choose a table wisely as against your actual bankroll. As a general rule of thumb, the maximum betting for a table should not be higher than 5% of a personal bankroll. You lose less if you practice this rule and will be able to get to play more games. Otherwise, you might end up just playing two hands and you are done. You do not get to enjoy your stay in a casino this way.

Another tip is to stick to one basic strategy. As you study blackjack, you will encounter so many tips, tricks and advice but later on, when you sit in a table, you cannot use everything you have learned. It is wiser to stick to one basic strategy and use it in all of your games. Go for consistency. Avoid applying different strategies even when you find yourself not winning anything so far.

This game is blackjack so think 21! The objective of the game is to get a hand with a total value of 21 or closest to it without going over. So keep this in mind. Your aim is to win by getting 21. Beat the dealerís hand.

Never buy insurance. It is not worth it. Just stick to your game plan. Game insurances are very luring most of the time. It is the very nature of insurances to entice players to buy it in hopes of increasing their potential winnings.

Also heed a few pieces of advice about splitting hands. In general, it is more favorable for you to split aces and 8s. Two aces could either give you a 22 which is a bust, or a 12 which is not really a winnable hand. Therefore it is better to split this pair. However, do not split any cards with a value of 10.

Another tip is all about right timing. Blackjack is a game of chance but a risk can be calculated. Know when to hit and stand. It is okay to be aggressive in hitting a card for as long as you do not go overboard 21. If your hand has a total of 17 or more, it is safe to stop hitting. Hit soft if you get 18 while your dealer has 10.

Take note of that one card a dealer exposes before he lets you decide to hit or stand. If his exposed card is 7 or higher, hit until you get 17 or higher. If a dealerís hand is only 4, 5, or 6, you can double with 9. If it is anywhere from 13 to 17, you can hit soft. It is a good move to double if you get 10 against a dealerís hand of 9 or lower. It is also good to double on any hand of 11.

It is very easy to get so involved and excited in a game especially with a streak of wins. Never be too engaged that you forget to strategize. Vary the amount you wager in every round. As you win, you can increase the amount you bet. As you lose, also decrease your bet to protect your bankroll. Do not lose your common sense when it comes to your money.

And lastly, remember that this game is not learned overnight. You need to constantly practice to improve your skills. Play hard and play smart.