How To Play Video Poker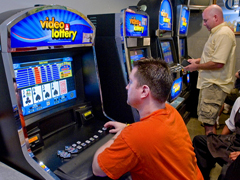 A slot machine is basically a game of chance. It takes a lucky player to win and hit the jackpot prize. Insert money, press or hit the spin button and hope that luck will make the machine stop to give you the jackpot prize. No amount of dancing or other rituals could change the outcome of the spin. However, not all casino games are like slots that rely on luck. Some games require some amount of skills and wise decision making to win. Such games usually have a lower house edge compared to slot machines. For example, the experts in the game of blackjack are aware that with basic strategy, they can reduce the house edge to less than 1%.

Many people shy away from table games because they get easily intimidated when playing face to face against other players. Some could not take the pressure of playing in an actual table. Even if they have the skills, once intimidation sets in, it is difficult to think straight and focus on the game itself. Thus, some would stick to slot machines. For others, they still prefer a game of poker where they could be more challenged. But they do not have to worry about being intimidated by other players because poker can now be played on a machine just like the slots. This is called the video poker.

Video poker ingeniously fills the gap between slots and table games. It is similar to a regular poker game that requires skills and strategies to win. In video poker, if you play it smart, you can lower the house edge significantly. A lot of players are drawn to it because they do not have to face actual competition in a table. Because of its increasing popularity, many casinos are piling up video poker machines on their floors. It started to fill the casinos in 1970s. During this time, video pokers were only limited to Jacks or Better draw poker. Today, it has shot up to over 100 variations.

How to Play
Since video poker is based on the traditional draw poker game, the rules are basically similar. The only main difference is that you do not play against other players but only with a machine. To start, you will be dealt with five cards on your screen. You can opt to draw up a new set of five cards or stick with the original deal. In some cases, you may want to replace one or two cards only instead of replacing all five. To signal the machine that you want to keep the cards, you press "hold" button on the screen.

Hit the "deal" button to signal that your decision is final. The cards you "threw" or discarded will be replaced with new cards. If you replaced none, then you will play with the original cards dealt and the game starts. The machine will determine if you won or loss based on your hand (the five cards you are playing) after you hit the "draw" button. Your winning is based on the pay table posted.

The Return
The advantage of video poker over slots is that you can estimate returns based on the pay table posted in front of you. In poker, there are many five-card combinations possible out of the 52 cards in a deck. Most often, the standard deck with 52 cards is used. Sometimes, the two joker cards are included to act as wild cards.

Deuce Wild is a popular poker game variation that used 52 cards but the deuces (2s) are wild cards. This twist increases the number of combination possibilities. The payout can be calculated based on the posted guideline.

With a standard deck of 52 cards alone, with no wild cards, a total of 2,598,960 hands can be produced. Video poker machines make use of a program called RNG or random number generator to control the come out of probabilities. The highest winning combination must occur most seldom because this is where the casino could adjust the house edge.

It is quite impossible to calculate the payouts mentally but there are software programs and strategies you can read on to learn more about it. It is important though that you learn how to calculate so that when playing you can be aware of the best returns possible. Of course, you want to make sure that you choose the payout giving the highest returns.

Strategy
It is also not enough to just know the payback rate. It takes certain strategies to also compute for maximum returns and hence requires mathematical strategy. There is no one general strategy for all games. Each game is treated differently depending on the cards that show up. Employ the right strategy at any given deal and play smart. A few mistakes can be costly for you and will tip the house edge further in favor to the casino. There are many different kinds of video poker games. Two of the most popular are Jacks or Better and Deuces Wild. These two games alone require different strategies.

To learn video poker, the best place to start is with Jacks or Better because the other video pokers are mostly variations from this. Read more about this game to understand it better and learn the right way to play hands.

It takes a lot of practice to perfect the game or improve your skills in poker, whether playing the actual card game or the video version. There are many programs you can download to practice playing. Some of these programs have an alert function that signals you right there and then when you made a mistake so you will learn instantly and be made aware of the wrong move you made. You will also learn how to calculate returns and memorize strategies through frequent plays.

People who prefer to play video poker over slots go for it because of the challenge. Part of the excitement is the fact that you have a certain amount of control over your winnings as compared to slots where your fate in winning is basically left to lady luck.