Casino Winners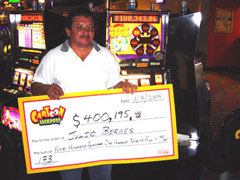 It is not easy to win in casino games. The odds are just too small to produce a big number of casino winners. Winning small bets are not that easy. Winning the big and grand jackpot prizes are all the more not a daily sight to see inside casinos.

There are many professional players who make a living out of gambling regularly. They invest a big amount of money in casino games and their main goal is to hit the jackpot and be instant millionaires. These professional players often work in teams or groups taking shifts in casino tables. They have gadgets they keep for constant communication. They invest heavily on training people to be very skilled in casino games like poker, blackjack, roulette and craps. They even practice to improve their skills.

However, one will be surprised that the biggest casino winners do not come from these groups of professional players. In Las Vegas, people who bet $100 in slot machines or poker are not the ones hitting the biggest prizes. One will be interested to know that the regular players who go to casinos for fun are the lucky ones getting the biggest prizes at stake. They are just taking their chances there while passing the time away, and they unexpectedly go home a millionaire. The Megabucks jackpot holds the longest list of casino winners, each prize won amounting to several million dollars to make them on the list of record casino winners of all time. The jackpot prizes won were not lower than $7 million.

If it is very unlikely to win the jackpot even once, it is rarer to win it twice. But for one very lucky man, he actually was able to do it and his name was Elmer Sherwin. At an old age of 76, he won his first jackpot at Megabucks wherein he bagged the highest prize of $4.6 million. Sixteen years later at the age of 92, he managed to win for a second time in the same game and brought home $21 million.

Mr. Sherwin played both these games in Las Vegas. The Megabucks games he played were progressive slot machines. He used his first game's winning to travel around the world. On his second win, he decided to give back and donated to the victims of hurricane Katrina that devastated New Orleans. He got his second jackpot on an annual installment basis.

Amy Nishimura is another grand casino winner who hails from Hawaii. She was only in Las Vegas for a vacation at the time she decided to enter a casino to pass the time. She was 71 years old then and played Megabucks at a Freemont hotel. She spent about $100 on the slots before she surprisingly hit the jackpot prize of $8.9 million. She was one of the winners of the network of Megabucks linked to around 150 casinos all over Nevada. The payout increased as more players played the game, and the grand prize fell on Ms. Nishimura's lap. When interviewed, she said that she dreamt of winning in a casino before she actually won.

The biggest jackpot won by any person happened in Vegas and the cash winnings amounted to a staggering $39.7 million. It happened in March 2003 at Excalibur casino and the lucky man was only 25 years old who hailed from Los Angeles. He holds the record up to this day of winning the biggest prize in slots with only $100 total deposit. He instantly became rich. The man did not go to Vegas for the casino but for the NCAA basketball tournament. His decision to sit down in a casino for a while happened on a whim. And just like that, he walked out of the casino a changed man. He is receiving his winnings in installments of $1.5 million every year for 25 years.

Sherwin and Nishimura proved luck can fall on any ordinary person just taking a chance inside a casino. And has Sherwin has also proven, luck does not strike only once.

Sherwin and Nishimura played in a traditional casino house. However, there are also many online casinos now where players could just play in the comforts of their homes as long as they have internet connection and the proper software installed. Online casinos have been around for many years now and have had their fair share also of casino winners. The list of winners is very long but here are a few examples of those who won big cash jackpot prizes by playing casino games online.

One of the trusted online casinos is the Casino Tropez. It has changed the lives of many winners from the games that can be played in their website. It has over 100 game selections and the site is trusted by millions of people around the globe. Timothy P. won $1.7 million from Casino Tropez when he hit the jackpot while playing Gold Rally in February 2005. Marco T. won from playing Diamond Valley. He received €190,661 in January 2007.

Still from Casino Tropez, Darius P. won a big cash amount of €921,915 from playing Lotto Madness in November 2007. Gerald A. won €129,936 in the online game Thrill Seekers in October of 2007 too. And Ulrike H. won €113,174 for the game Lotto Madness too. In April 2008, Yves G. won a big cash prize of €587,314 from the game Gold Rally.

Another famous online casino is the Fortune Room Casino. Nancy H. was only playing Cyberstud for fun when she hit the jackpot prize and received $198,585.76 in total in March 2008. A certain J.M. played Major Millions games from Captain Cooks Casino Online and won $401,405.30 total in October 2006.

An online player who refuses to be named but has the initials K.E. unexpectedly won a total of $5,556,753.68 on April 2008 just by playing Mega Moolah at the Blackjack Ballroom Casino Online. He is a sure proof that there are reliable online casinos who actually pays out winners.

The risk in playing online games is that money deposited might not be paid back from winnings. But there are many reliable sites that actually pay out winners as seen from the examples above. Players just have to learn how to detect scam sites from authentic ones. If they have nothing better to do, they could try their luck online. They might just become the next grand casino winner.