Roulette Odds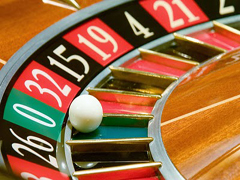 How hard can it be to spin a wheel and wait for the ball to drop? One round will only take about a minute before another round begins. Roulette is a very simple game. The very simplicity is the main attraction of this casino game. It has none of the frills of a card game that deals with different suits and numbers. In a game of roulette, just guess where the ball will drop. Pick any number from 1 to 37. If you guess right, you win. If you guess incorrectly, then you lose.

Roulette is definitely not complicated. Any gamer can play it in an instant. In fact, most first time casino goers are drawn to roulette tables while trying to gain confidence to join other table games. It is a good start before hopping on to other games that require some skill and strategy already.

Spinning the wheel might be easy but winning in roulette is quite difficult. It is primarily a game of luck. There are no patterns, no mathematical computations, and no scientific basis. It requires no skill at all because winning is by chance. You rely on the ball jumping at random on the wheel while it spins and you hope it will settle on the slot number you betted on. And because there are typically 37 slots on the wheel, the probability of hitting the right number is 1 out of 37. That is equivalent to only 2.7%.

If you are interested in playing roulette, you can learn how to improve your odds in this game. In every move you make, just remember to stay realistic. Do not be caught too engaged in the game that you lose control over your bankroll.

Roulette is a game of chance. It is the worst game to bet on because of its house advantage yet it remains very popular because it is easy to play and because many people find it very entertaining. If you can accept this, then you can enjoy it to the fullest even if you do not win. However, if you study the odds, you can make more informed choices and thereby be able to bet more wisely. You will also be able to manage your money more carefully. The goal is to maximize winning or at the very least minimize losing.

The huge advantage of the casino house comes from the fact that there are 37 or 38 numbers to choose from. Without any systematic way to predict the number outcome, betting relies on guessing. The odds are so slim at 2.7% if you will only bet on one number. It will drain your wallet easily if you only bet on one number. Thus, what most people do is to bet on many numbers to increase the probability of winning. Then again, the payout percentage is decreased as more numbers are betted on.

Another thing to consider on a straight up bet (one number only) is the fact that the payout is only 35 to 1 when in fact there are 36 or 37 numbers. This is another immediate advantage of the house. There is a similar discrepancy in the bets and payout for combination bets. Without this discrepancy, a casino house will lose its edge.

Focus on the factors you can control in a game. The random outcome is incontrollable because the ball has a mind of its own and can land on any slot. All the numbered slots have equal chances of being "chosen" by the ball.

If you cannot predict the outcome, you can at least strategize on your betting style while keeping in mind the actual odds of roulette. Strategizing is critical in increasing your odds of winning.

Sticking to just one number bet is very risky because your chances of winning are so small. Only a few people do this. Most players will prefer to scatter their chips over several combination bets. Although the payout is smaller, the chances of winning are greater. You are free to use any combination of bets as long as you do not exceed the maximum limit of a table.

To further increase the odds, some people prefer to block consecutive numbers rather than choosing a couple of numbers at random. Thus, if you want to bet on four numbers, you could go for 16 to 19 rather than choosing 2, 13, 27 and 31.

Of course, the more numbers you bet on, the more challenging and complicated it will be to follow the action. But you can simplify things in some ways. To further increase the odds of winning, here a few other tips.

First, your goal is to be able to play for a longer time and enjoy more rounds even if you are not winning. Thus, stick to minimum bets required on the table and go for outside bets. For example, you can bet on either red or black for a spin. Although it only pays 1 to 1, you are able to cover a larger number of combinations, total of 18 out of 38. That is instantly about 50% chance of winning.

Another technique is to place two bets of equal amounts on two outside bets. The first bet can be for an even-money while the second for a column or dozen. This pays 2 to 1. For the column, you have 3 vertical lines to choose from. Each column has 8 numbers. And then place another bet on a black or red. This kind of move altogether gives you 26 numbers. That is tantamount of 26 out 38 probability of hitting. 4 of these numbers are covered twice created by the intersection of the bet.

Another way is to bet on both a red and the second column. There are 8 black numbers in column two. This kind of move also covers 26 numbers at once with 4 numbers intersected. That increases your odds of winning.

This kind of combined betting is called spreading. It will not give you high payouts but it makes the roulette game more interesting rather than betting on just one number. If all players in a table bet on just one number, it gets boring because it will take many hours (or even days) before someone could actually win. Make every game an exciting experience for you even with smaller returns.