Caribbean Poker Tips & Tricks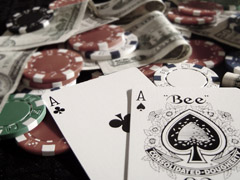 Caribbean Poker is one of the most popular casino table poker games. Like other poker games, it is not played against other players. Rather it is played against the house. The game has gained much popularity over a period of time because of ease of playing, fair odds, and profitable payouts. The main objective of a player is to beat the dealerís poker hand with his own.

How Is Caribbean Poker Played?

Caribbean Poker is a five-card casino table poker game. It is played with a standard 52 card deck. Both you and dealer are dealt with five cards. The cards are usually dealt by an automatic shuffling machine or from a multi-deck shoe in a group of five. Once you get your cards, you can look at all of them right away. The dealer turns up one card (face card) for you to see. In this game, you play the entire game with the cards you are dealt with from the beginning as there are no draw cards. If your hand has a higher poker ranking than that of dealerís from these five cards, you win.

Before the cards are dealt, you need to place a bet in the ďAnte BoxĒ in your table layout. You have three different wagers available to you:
Ante Bet: This bet is necessary and is made prior to starting the game. This can be any amount within the table limits. It can not be less than the table minimum. The Ante bet amount is forfeited if you lose the hand.

Side Bet: This bet is made prior to the cards being dealt. You are eligible to win one of the progressive jackpots by making this $ 1 bet. A Royal Flush or a Straight Flush is a progressive winning jackpot hand.

Bet: If after seeing the five cards you have been dealt, you decide to continue playing with your hand, you have to make a bet equal to double the value of your Ante bet for that game.
Caribbean Poker can be a wonderful game to play if youíre interested in having endless fun and hitting a jackpot. But the game is backed by a couple of solid rules that you need to know, The decisions regarding how much to bet, whether to raise or fold after dealerís one-card flop and whether to take the progressive bet or not, are what you need to take in this game. The success and failure of Caribbean Poker depends on these three decisions.

Caribbean Poker Tips And Tricks
Well, smart players place small bets. It is better to place the table minimum while making an Ante bet. In order to make real profit, you need to first beat the dealer as long as he has a Candidate hand or greater. But if dealer doesnít have it, youíll receive 1 to 1 on your Ante bet that is not much of a winning. If dealer has the candidate hand, youíre eligible to receive the appropriate payoff odds for your hand. So, it is necessary to know your table minimum and maximum to place a bet.

Caribbean Poker is not a difficult game but is a challenging one. You should know some basic strategies and rules in order to make a sensible move. As far as raising or folding decision is concerned after dealerís one-card flop, it is recommended not to fold your small pairs. Most novice players make this mistake of folding the game. This wonít make you a long-term winner but yes, will help in tracking small losses. In the long run, the decision of not to fold the game can turn out to be very profitable.

It is suggested not to play this game with a weak hand (Candidate Hand). The odds are not in your favor in such situation. If it is not in your favor, you lose both your Ante bet and full bet. It is not profitable even if you win as winning only pays you 1 to 1 on your Ante bet. This can cause bigger loss in the long run. It is good to fold the game if you have less than an Ace-King (Candidate Hand). Since your objective is to beat the dealerís hand, make sure to learn its importance and other game intricacies.

Play Ace-King only if you have another card in your hand matching the dealerís face card. By doing this, you eliminate another card from his hand and increase your chance to win the game. Though it seems quite easy but is very challenging. This is done to make extra sure that you can beat the dealer. As long as you follow the basic rules and play smartly, you would have greater chance of winning.

Always make $ 1 bet on the progressive jackpot when youíre playing. It makes you eligible to win the progressive jackpot as well as qualify you for the jackpot money. If you donít place $ 1 bet in the beginning, you do not qualify for the jackpot money even if you win the jackpot. Though itís extremely difficult to hit the jackpot but $ 1 is worth investing. Donít take a risk as you never know when your lucky day could roll around.

It is recommended to evaluate your game at Poker table just to analyze your profit and loss. You may lose over the long run regardless of how good your short term results are, if you make wrong decisions. The game at each higher level turns more risky and you may lose a good amount if you donít watch your play. Youíll win more money and have more fun if you learn the correct strategies and understand the odds.
To give your best shot and enjoy some nice winnings, always follow basic rules and optimal strategy. Always remember not to bluff a weak hand and fold a small pair. While playing Caribbean Poker, always go for progressive bet as it qualifies you for jackpot amount.