Casino Rules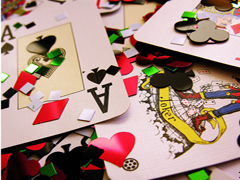 Regular casino players observe some general casino rules and customs in addition to rules laid for playing various casino games. If you are a newcomer, you might expect people to be dressed in Tuxedos or formal wear at casino tables as you might have seen in some movies; but American casinos are not at all formal. People are seen wearing casual dresses and sportswear like jeans and a T-shirt. However, in case of online casinos, it doesn't matter what you are wearing; you simply need to know casino rules and regulations before playing the games.

Basic Casino Rules And Customs

First, let's discuss some basic casino rules and customs followed by most players and what is expected of you when you arrive at the casino:

Many casinos offer free drinks to players on the slots or tables. Although, in many states serving free alcoholic beverages is illegal, so casinos in these states offer free soft drinks or coffee to its patrons; alcoholic beverages are available at a charge. If you are offered these free drinks, it is appropriate to tip the server around one dollar at least.

Before starting any game, be sure you know the bet requirements. On slot machines or video poker, the bets are either painted or displayed on the video screen. At the game tables, you will see a rectangular sign with the details like minimum and maximum bets. These signs are usually color coded as per the colors of the casino chips. In most casinos $1 chips are white in color, $5 chips are red, $25 is green and $100 chips are black in color. So the sign on the table will also be corresponding to these colors, indicating the minimum bet. It's advisable to read the sign carefully before betting as the color codes can sometimes be different too.

Once you reach the table, read the signs and if you decide to play, you can change currency for chips at the table. Ask the dealer "change please", after placing your currency on the table. The dealer will give you chips of the amount corresponding to your cash. When you decide to leave the table and you have chips with you, you get cash only at the casino cashier's booth.

If you wish to change your small denomination chips for a larger denomination, say $1 chips which are 50 in number; you should ask the dealer to "color up". The dealer then handles you two chips of $25 in exchange for the small denomination chips. But according to the casino rules, the encashment can be done only at the cashier cage or cash kiosk. This is done for security reasons and to minimize foul play.

If you are playing the slot machine or video poker, you can get cash by pushing a button. When you do so, a bar coded print out will come. This print out can be used in another machine or can be redeemed at the cash counter.

Casino Pay-Offs

The casino rules for pay-off are different for different games. You should make note of that before trying your luck. You may find pay-offs expressed as '25 to 1' or '5 to 1'. In roulette, the payoff for hitting a single number is '35 to 1'. It means you place a certain units of bet for a single number, and if the outcome shows you have won, then you will win 35 units of your bet and get to keep the one unit of your bet too. Hence you will have 36 units at the end of one bet in roulette.

In case of video poker however, bets are usually expressed as '3 to 1' i.e. you put one unit down the slot and if you win, you get 3 units of your bet as your winning amount. It means your total is three, at the expense of one unit.

Be A Responsible Casino Player

Enter a casino with money that you intend to spend that day; do not use money you can't afford. If initially you tend to lose money, it does not mean you will win eventually. The chances of winning are always the same. Previously deciding a budget and sticking it will help you in playing in a planned way, simultaneously enjoying the game and having a good time. Knowledge of casino rules and regulations in advance will help you play strategically and give you an edge over others. Some games like blackjack and video poker can be played optimally if you know the rules and can form a strategy. This will increase your chances of winning. However, slots, keno and lottery type games are based on pure chance and luck; you cannot win them by using any logic or strategy.

For a player who wants to stay in the casino for at least 2 hours, following is the minimum currency required:

$100 for video poker and 25 cent slots
$150 for $5 per hand blackjack
$500 for $5 best method craps
$200 for $10 per hand mini Baccarat

It is not that you will lose all the money you bet. You might sometimes win and get a return too. Sometimes, you may win all the way and earn a profit on your initial currency too. It is important to indulge in responsible gambling, so try to stick to your limits on bets and always tip the dealer when you win.

Online Casino Rules

Given below are some casino rules for online gambling:
The online casino player must be at least 18 years of age and should provide accurate information. This information is kept confidential.

It is the player's responsibility to pay any taxes or deductions applicable on any winnings received from the casino. The player must accept the random numbers and patterns generated by the computer in all games played online.

Before a cash-out is processed, the player is asked to provide photo ID proof and address proof. If the player is found to commit any abusive or fraudulent activity, the casino rules allow the online casino to close that player's account.
Online casino rules are made to make online casinos a secure and safe place to play games. They work towards creating a fun playing environment, where anyone can play casino games with minimum investment from the privacy of their home. If you are also venturing into online casino gaming, do follow the casino rules. This will be beneficial for you as well as fellow players.