Caribbean Poker Odds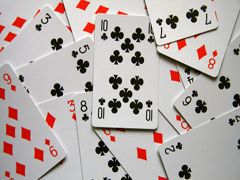 For all casino game lovers, poker is a great hit where you play against the dealer and other players. However, in Caribbean poker you play only against the dealer. This reduces the chances of bluffing or deception. It is advisable to download free versions of this game before you actually start dealing with monetary bets. This game uses a standard card deck for dealing a five-card poker hand where every player tries to beat the poker hand of the dealer. Depending on how good a hand you have, your payouts will increase.

Caribbean poker is a casino game involving luck to a large extent. Odds in this game cannot be accurately selected because the game depends on chance and is not under the control of any of the players. However there are some strategies on how to win while playing Caribbean poker that may help to raise the ones in a player's favor. Many sites on the Internet offer free downloadable versions of this game which you can practice. There are some rules that you need to follow when playing Caribbean poker:
Every player is entitled to playing with only a single hand.

Players cannot discuss their hands with any other players or the dealer because this will result in a dead hand and forfeiting of all wagers.

Decision of the table supervisor is final.

When players have an incorrect number of cards it means dead hand for that particular player.

All players must keep their cards before the dealer in full view at all times and once the players have kept them facing down on the table they are not permitted to touch them again.

When a hole card is announced before the dealer declares "no more bets" all the hands become invalid.
Understanding Caribbean poker odds is important to play this casino game sensibly. Although luck plays a great role in deciding the odds, being informed and being able to make the correct choices matters too. Chances of getting good hands are rare. Some easy tips that you can follow to increase your chances of winning the game are as follows:
Remember not to fold when you have two pairs or better.

Try and not play the progressive especially when the jackpot is less. When jackpot is very high this may be worth it.

On playing the progressive you are capable of winning even when the dealer fails to qualify.

Having nothing suggests a lose-lose situation where you have the chance of scoring provided the dealer too has nothing and the bet gets returned to you.
Tips On Winning Caribbean Poker:
Always place smaller bets because the chances of losing money are very high. A large number of small bets is better than a handful of large wagers.

Raise when you have A-K-J-8-3 because a hand like this will break during the game of Caribbean poker.

Fold when the scope for winning is less in order to avoid losing too much money.

Keep in mind rules of the game because the dealer needs to have either an ace or king or even better before a player can receive a proper payout.

Be aware of the maximum amount that a player can win on a certain table because betting more than that amount is imprudent.
Caribbean poker odds depend on statistics and being able to assess the outcome of some outcomes. There are plenty of materials and books that deal with strategies of winning this game by lowering the house edge and increasing the odds in your favor.
One such strategy is that you must play if you have a hand containing A K J 8 or 3 or even better. This helps to bring down the house edge to 2.6% and raise your total odds in a game. In such case the player is likely to fold his hand whenever he finds out that he does not have a good hand.

Another striking feature is that more often than not the dealer will not qualify for playing the game. So as a player you can get the ante wager for even money but cannot earn any extra cash on your five card hand.

You should never try to play with anything less than a king or ace in your hand. But if there is an ace or king in the dealer's face card, then ideally only king, ace, queen and jack are the only ones that should be used for playing. When the dealer displays any other card from 2 to Q and this is matched with either a king or an ace, then the hand ought to be played. This indicates that the dealer may not have a higher card than a king or ace in which case he can be blocked out and some of the odds can be returned. When a player has king, ace or queen, king, jack and the dealer shows a 2 through 5 as his face card, the hand can be played because there is under 50% possibility that the dealer has an ace or king.

A good strategy is to play the progressive jackpot in Caribbean poker and try to win.
Odds are usually against you in this casino game but there is a great degree of fun and excitement. If you are willing to be a little adventurous you can actually make millions in a few minutes by playing with minimal stakes. When played correctly by following the aforementioned strategies you can swing the odds in your favor and you can actually leave the casino a rich man! Caribbean poker odds are likely to vary from one casino to another depending on their own rules. Although other games are found to be more popular in casinos because they are far simple to play, Caribbean poker gives you the golden opportunity to amass a fortune with the turn of a single card.