Casino Tournaments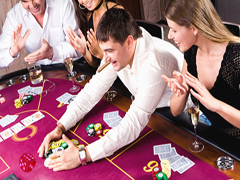 If you are a regular online gamer, you should know about the new interesting development of casino tournaments. It has been developed as an innovative form of entertainment for avid poker fans. You can have a quick fun way to achieve a win at these tournaments. The most popular variety is slots tournaments, but now tournaments are offered for blackjack, roulette, and other table games.

How Does it Work?

When you enter a tournament, you are given a certain amount of chips. You have to try and build your chip stack by playing the tournament game in a limited amount of time. Some casinos will charge you an entry fee, but many offer free chances to play. These are known as "freerolls."

There are many types of casino tournaments and these are easy to play. You can enter the tournament and win real cash. Video poker, blackjack, and slots tournaments are among the games played. Slots are the most demanded by online players. Blackjack tournaments are different in some ways, as they are played as multi-player games and the winner is determined by the highest amount they wager. The higher they bet, the higher their ranking.

To participate in a tournament, you need to play a minimum of 20 rounds or bets. The best 20 consecutive bets will be your highest score when the tournament is finished. The prize pool that is being played for the cumulative total of entry fees and re-buys after the online casino guarantees a certain prize value. Microgaming and Vegas software powered technologies offer these kinds of tournaments.

Understanding The Tournaments
Game: This is the name of the game for which the tournament is being featured.

Entry: The amount you have to pay or the cost to enter the tournament.

Prize Pool: The prize winning of the tournament.

Type: Some tournaments can be entered at any time and can be left when you want to quit playing. Other tournaments have special time schedules for starting and ending the game.
Different Tournaments

There is a variety of tournaments you can play among online casino tournaments.
Groovy, Funky, Super Tournament: This is the 60s to 80s theme-based name of the game in which you need to play a minimum of 20 rounds to claim a prize. The system keeps track of which sequence of 20 rounds gives the best win.

Thrill Spin Casino Tournament: This game has 15 payouts and the prize win is 2000. There is a tracking system for the highest score.

Video Slot Tournament: The best 20 will decide your result and you can play the games in real money mode. There are fixed schedules for this game. The games in this promotion are Blood Suckers, Devil's Delight, Groovy Sixties, Wild Witches, and Diamond Dogs.
Microgaming Slots Tournament

If you want to play in this tournament, you have to click on the "change view" button which lets you see the tree view of games offered. When you click on Tournament, you can select the option for Slots. You can see the "Sit and Go," "Scheduled," and "Private" sections.
Sit And Go: You can play this anytime of the day or night when the minimum number of players has registered. Therefore, you don't have to wait too long to start.

Scheduled: You can check the list of upcoming tournaments and register for these tournaments well ahead. These are shared by microgaming casinos that support tournaments.

Private: These are special tournaments only available to the customers of Crazy Vegas.
Slot tournaments have several advantages to regular play. The stakes are fixed and you know ahead how much you risk losing. There is a guaranteed prize pool as well.

When you click on any of the casino tournaments, you can click on a slots tournament in the displayed list and view the prizes offered for each. You can also read about the rules and player standings.

You have to be aware of the time limits or amount of time you can play. To advance on the leader board, you need to bet the maximum amount of credits. This, in turn, will help maximize the amount you win on each winning spin and the bonus rounds. There is something called the "win box" which adds up your wins from each spin or bonus.

When your balance runs out in most tournaments, you can continue to play if you pay a certain amount of cash. It is your choice if you wish to continue playing depending on your wins.

Strategies For Playing

You need to follow some principles when you play in tournaments. They can help you develop the right strategies to encounter any situation in a tournament.

You have two choices, either to advance to the next round or lose trying. If you start out with $300, you know that if you finish with double that amount you can get into the next round. Don't start a game if you know you cannot afford the whole buy-in.

You can start by betting small till you know your bankroll will not reach where your goal is. Bet big when the opportunity presents itself that you may win over the people you want to catch. When you are behind, make a bet that will give you a chance to win over the people you want to catch, when they are losing. Always have a large bankroll, enough to advance to the next round, or you should bust out. There is no middle path. When you make a big bet, you should do it in a way that gives you maximum flexibility.

Slots Tournament Strategy

Click through fast when the spin finishes while keeping an eye on the scores. Don't enter a tournament when it is midway through and you have only three minutes left. Leave yourself enough time to finish. At the same time, wait until ten minutes after the start time to start playing. Use the continue playing option only when you need to. If there is time left for play, take a break and come back and play. Or you would be wasting money by building a bigger lead that you don't need.

Casino tournaments are very popular among millions of people who are looking for excitement and fun in gaming.