Caribbean Poker Rules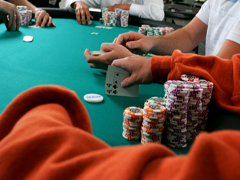 Poker is a world famous game that is extremely popular in casinos, both online and offline. The televised championships and celebrity poker game shows have given a completely different tinge to its popularity. However, over the years the original poker game has been modified to the extent that some of them are not quite poker anymore. An example of such a game is the Caribbean Stud Poker that is more like Blackjack than the original poker. In this game, you play against the casino and not against other players and the odds favor the casino and not the player. However, there is no change in the winning hands which continue to be the same old traditional poker hands.

Basic Elements

Caribbean Stud Poker is played on a special table that is similar to the one on which blackjack is played. Only ten cards are played in every game, five for the player and five for the dealer but it can deal up to 52 cards. Some casinos also use the shuffling machine which deals 5 cards at a time.

Rules Of Playing Caribbean Poker

Before the dealer declares "No more bets" you are expected to ante up and then the dealer will deal five cards each to you, the dealer himself (or the bank) and other players. You are then expected to see your cards and the bank's first card and then you must either make a call bet or surrender. In case you surrender, the bank will take over your ante and in case you make a call bet, the stake's value will double since the value of the call bet is equal to your original ante.

Once a bet is placed, the showdown will take place. If the bank does not have ace/king or better, the bank will return your bet along with an amount equal to the ante. However, if the bank has ace/king or better, you can only win if you have a better hand and the bank will pay out money even with your ante and fixed odds on your call bet.

A typical casino will pay out even money on your ante and fixed odds on your call bet as follows, but each casino varies:
Even payout for a pair or high card

2 to 1 for two pairs

3 to 1 for three of a kind

4 to 1 for a straight

5 to 1 for a flush

7 to 1 for a full house

20 to 1 for a four of a kind

50 to 1 for a straight flush

100 to 1 for a royal flush
In order to start the next round of betting, you have to place the next ante and start the game. The general rules which must be followed at the tables at all times are:
You cannot hold or place bets on multiple hands at the same time.

You are not allowed to communicate or exchange card information with the dealer or any other player and if you do so, your wagers will be forfeited and a dead hand will be declared.

If you get incorrect number of cards, the hand will be declared dead for you and your wager will be returned. However, if there is a misdeal, all the hands will be declared void and the deck will be shuffled.

In all disputes, the decision of the table and/or casino or floor supervisor will be considered final without recourse to any further dispute.

Your cards should always be in the sight of the dealer. Once you have seen your cards, you should return them to the layout on the table and you should not touch them till you have to turn the hand.

All hands will be declared void if a hole card is exposed before the dealer announces "No more bets".
These rules apply to stud poker which means that what is in your hand is in your hand. You are allowed to buy a card in some casinos before you raise the ante into the call bet. There is a possibility that you might get the card that you want but most of the time the odds will be against you in this procedure. Although there are no general strategies for being successful you can formulate your own strategies that can help you. These include: if you have a pair or higher, you must raise your wager; and if your hand is less than the dealer's qualifying hand (ace and king), you must fold.

However, if you are raising with a pair or higher and if you are folding with less than an ace and king, you should consider raising the wager with the ace and king if the shown card of the dealer is a 2 through queen and if it matches one of yours. You can also consider doing the same if the shown card of the dealer is an ace or king and if you have a queen or jack in your hand.

It is not difficult to play Caribbean Stud Poker and if you want to start playing, you should invite a few like-minded friends and learn the game together with them and have fun. You can also play Caribbean Stud Poker online over the different online casino and gaming websites. If you plan to play online you should play for free till you understand the intricacies of the game and become confident of playing it with real money.
You can then try your hand at a nearby casino and test your skills against a live dealer. It is important to remember that the odds are against you when you play the house and as such it is important to play with caution. The following tips will be of great help: before you start off, read all the rules and limits at the table; since the odds are in favor of the bank, you should evaluate whether the possible loss is worth the pleasure of playing; you must remember that this is not a bluff game and as such you should never try to bluff a hand; and you should verify your odds before starting to play because the payout odds are different for each casino.