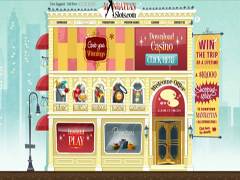 Manhattan Slots is an online gaming site which offers a variety of slot games for players. Slots have always been popular with players all over the world. Pushing in a couple of coins, pulling the lever and waiting in anticipation for the dials to turn has been something that has always fascinated people. This may be the reason why Manhattan Slots has gained popularity so quickly in the virtual world.

A Little about Slots

Slot machines were first seen in the United States of America. The machine was supposed to have been invented sometime in the late 1800s. The earliest ones were all mechanical in nature but even then they were highly popular. It was only in the 1960s that they became electrically operated. This was called the Money Honey and there was automatic payout from the machine itself. Today, slot machines have evolved many fold. There are of course still machines which exist with the lever, but there are also other types such as ones with buttons, touch screens and video graphics. With the internet catching on like wildfire and all businesses becoming web enabled, slots have also moved into the virtual world of the internet. Today, there are thousands of websites that offer great fun games for players. Some are just for fun while some use real money. Manhattan Slots is one such site which allows members to play the slots using real money.

The Games available at Manhattan

Manhattan Slots have more than hundred slot games under their wing. The site is owned and operated by the Club World Casino Group which has been operating in the virtual world for quite a few years. Club World Casino is a registered company in the United Kingdom and has the license to operate online games from the Netherlands. The design of the website is highly appealing to all and is specially aimed at female customers who have a love for the game. Though the site concentrates more on slots, it also has gaming rooms where members can play table games, progressive games and video games.

There are also specialty games like Lucky 8s, SicBo, Americal Roulette, Keno. The slot games are arranged alphabetically and also according to their class. The classes include Classic, 9 Playlines, 25 Playlines, Big Bonus, 20 Playlines, 50 Playlines and Progressive. Progressive games are something a lot of people like to play, even if they are not interested in gambling. The progressive section of Manhattan Slots has an array of fun games like Aztec Millions, Caribbean Hold Ups, The Shark, Shopping Spree and Mid-Life Crisis. Games like Shopping Spree and Mid-Life Crisis have been specially designed with women players in mind. Games at the site can also be played for fun. There is no need to place a wager for every game. Many of the progressive games are played for fun by many users. For these players, the fun lies in going up to the next level and not in winning money.

Many of the games available at Manhattan Slots can be played off line by downloading the casino application. The website has an instant play button which can be used by members. This allows members to either play for real or for fun instantly.

Membership and Security

For becoming a member, a person has to fill in a form which also requires a username and password. Creating an account and verifying it requires the person to send the completed form with identification proof and details of credit card, if any. For security reasons, Manhattan Slots asks persons to hide the middle eight digits of the credit card number before sending it to them.

Once a person becomes a member, he can deposit as much as he wants with the cashier. The deposit is made through secured portals provided by Manhattan Slots. Payment options include credit cards, Click2Play, Neteller, ECO card and Instadebit. There is a minimum and a maximum amount that can be deposited with each payment option and customers can deposit money accordingly. Generally, once a deposit is made, the member can play instantaneously. However, if payment is made by check, it takes a minimum of four days for activation.

With regard to security, the site and its games are constantly monitored and audited by a reputed auditing firm, Technical Systems Testing. This firm has been in the business of auditing online as well as land based casinos for a many years. For a person to play on the site, he should have reached the minimum legal age of 18. However, there are countries where the minimum age for gambling is 21. If a person is playing from such a country then he has to be 21 years of age. Some countries do not allow playing for real money. The games are restricted in such places and members can only play for fun.

Manhattan Slots has great offers both for new and old members in the form of promotions. These promotions vary from month to month and day to day. There are daily promotions as well as promotions that are offered to all members when they join the site in the form of a welcome bonus. There is also something called the "Slot Club" whose members get special offers and discounts. Every member becomes a member of the "Club Class" once three deposits are made. The other classes include the Business Class, First Class and Premiere Class. Depending on the class, the benefits vary and these benefits include increased earnings.

Support for Members

Manhattan Slots extends great support to its members. They have a 24 hour helpline that is available all days of the week. The helpline is available not just to those who have doubts about the games, but also to those who need to find out more about their membership or need to talk to a cashier.

All the above features of Manhattan Slots make it a favorite among game lovers all over the world. Women especially find the site extremely intriguing and easy to use. With the additional benefits of bonuses and club options, the site is extremely successful in the virtual world of casinos.